CBA Updates
Four Weeks Until the Value of Biogas April Conference
Register today for the 2021 Value of Biogas April Conference hosted on April 27-29. The event provides unique and distinct programming from the successful January conference and presents another opportunity to further connect with leaders in the industry. The conference will consider how to get to net-zero with biogas and RNG, policy developments across Canada, and feature a Keynote Address from The Honourable Jeff Yurek, Minister of the Environment, Conservation and Parks. View the program and register today to secure your spot!
Making the Most of the Revised Clean Fuel Standard
While the government's changes to the Clean Fuel Standard, announced in December, were a major blow to biogas and RNG opportunities, the revised regulation still holds promise for advancing projects. On March 4th, the CBA submitted comments on the draft regulation to ensure as much opportunity for biogas and RNG producers as possible. The CBA would like to thank all the members who contributed input and expertise to this response. The CBA will continue to monitor the development of this regulation in 2021, and its implementation in 2022.
Introducing Agriculture Minister to a Farm Biogas System
On March 9th, the CBA and Rob and Rachel McKinlay from Harcolm Farms hosted Marie-Claude Bibeau, Minister of Agriculture and Agri-Food Canada, for a virtual tour of the Harcolm farm biogas system. Following the tour, Minister Bibeau announced funding received in 2020 for the CBA's Farming Biogas and agricultural RNG clustering tool. In 2021, the CBA is asking AAFC for $50 million in government grants to support the rapid uptake of farm biogas systems.
More Updates
News
Enbridge Gas Partners with City of Hamilton to Fuel Ontario's First Carbon-Negative Bus
On March 4th, the City of Hamilton and Enbridge Gas publicly announced the first renewable natural gas (RNG) fuelled bus in Ontario. Hamilton Street Railway (HSR) is now the first public transportation authority in Ontario to use RNG, to transport customers. In one year, the HSR RNG bus will use and divert 450 tonnes of organic waste from the landfill. That's equivalent to 138 garbage trucks, while also displacing CO2 emissions from 36,000 litres of diesel consumed in a year.
Metro Vancouver and FortisBC Announce Formal Collaboration on Climate Action
On March 15th, Metro Vancouver and FortisBC Energy Inc. announced they've agreed to work together to achieve regional climate-action goals and showcase a new facility that will recover more energy from liquid wastewater treatment. The new Lulu Island Renewable Natural Gas Facility, located in Richmond, B.C., at Metro Vancouver's Lulu Island Wastewater Treatment Plant site, now allows the unused biogas to be cleaned, stored and sold to purchasers such as FortisBC as Renewable Natural Gas (RNG).
Report Launch – Biogas: Pathways to 2030
The World Biogas Association (WBA) recently released a new report Biogas: Pathways to 2030 that maps out how biogas can effectively cut global emission by 10% by 2030. Often overlooked, organic waste represents a key sector in urgent need of decarbonisation. Humans directly or indirectly generate over 105 billion tonnes of organic wastes globally each year, all of which release harmful methane and other greenhouse gas emissions directly into the atmosphere as they decompose. David Newman, President of the World Biogas Association states "If we do not address methane emission from organic wastes all our efforts to tackle the climate crisis will fail. Anaerobic digestion is one of the ready to go, ready to scale technologies that can do this. The path we must take is clear."
More News
Events
April 27-29, Hopin
June 2-3, Online Virtual Forum
More Events
Insights
April 09
Biogas could be the difference between meeting the world's 2030 climate targets and missing them. That's according to a new report from the World Biogas Association, which says biogas could cut climate pollution by a staggering 10 per cent globally by 2030.
Continue reading…
Featured Member
March 29
Bird Construction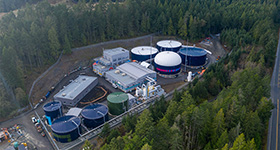 Bird Construction is a nation-wide general contracting company that has been providing construction services to new and established clients since 1920. Bird recently acquired Stuart Olson and now has over 5000 employees coast-to-coast and offices in 13 locations across Canada. Bird is active in all market sectors include industrial, power, buildings, oil and gas, mining, transportation, industrial maintenance, renewable energy and environmental.
Continue reading…